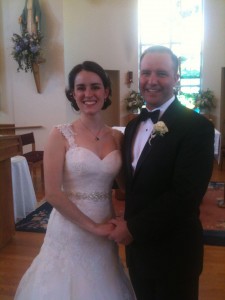 Couples wishing to initiate this process should make an appointment with Father or Deacon Mark.  Please contact the secretary to make an appointment.  Couples should allow at least 6 months preparation period for this Sacrament.  Wedding dates cannot be scheduled until this process has been initiated.  A Marriage Preparation Program is required by the Diocese.  Click here for information and the class schedule.  Holy Name of Mary is a regional location for this program. You may wish to download our Information booklet.
Catholics who have experienced Divorce
There is much misunderstanding about the status of Catholics who have experienced divorce.  At Holy Name of Mary, we want to assist such Catholics to clarify, or if necessary, resolve their relationship with the Church.
Catholics who are divorced, but not remarried, are in good standing with the Church.  There is nothing to prevent them from receiving the Sacraments or participating fully in the life of the parish.  This is true regardless of their status during their marriage.  A Catholic who was married out of the Church is no longer excommunicated.  All that is necessary is to receive the Sacrament of Penance and everything can be resolved.
Catholics who would wish to Remarry
Catholics who have married again, without the blessing of the Church, may be able to rectify their situation through the annulment process.  Members of the Pastoral Staff at Holy Name of Mary will assist them with this.  It is not nearly as difficult as it once was.  The Tribunal of the Diocese of Richmond is very pastorally oriented and will assist to the fullest extent possible.  There are no fees associated with the annulment process in the Diocese of Richmond.
If you have experienced divorce and have any questions or concerns, please contact a member of the Pastoral Staff.  We will be happy to talk with you and assist in any way we can.