Why join the Knights of Columbus?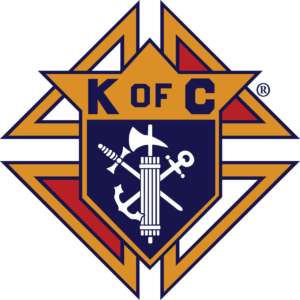 Are you interested in getting to know more men and families in your parish?  Are you looking for ways to "give back" to your church and community?  Then the Knights of Columbus may be for you.
The Knights of Columbus is the largest, catholic, fraternal, charitable service organization in the world.  We're a band of brothers, a network of men (age 18 and older) around the world who are dedicated to doing good works in the service of God, our priests and parishes, our veterans, our community, and our families. In addition, the Knights of Columbus offers special benefits to men and their families only available to members.
Founded in 1882 by Fr Michael J. McGivney in New Haven, CT, the Knights have grown as an organization to over 6 million men around the world.  We are anchored by our 4 guiding principles; charity, unity, fraternity, and patriotism.
We have approximately 200 knights in Holy Cross Council 595 in Forest.  Below are some of the programs we participate in:
Church

– Support seminarians with yearly stipends to help defer costs

Community

– Raise money and provide grants for the intellectually challenged, raise money for the Miriam House shelter for women and children, support of our veterans

Youth Programs

– Support Boy Scouts, sponsor essay contest, and youth softball.

Family

– Hold annual Columbus Day picnic, Christmas party, Easter Egg Hunt, and Super Bowl party

Culture of Life Programs

– Support Pro-life efforts such as sponsoring a bus to the annual Pro-life march in Washington DC
If you would like to learn more and be part of the Knights of Columbus and join several members of Holy Name of Mary supporting our church, priests, family, and  community, please contact Mike Wilson at 434-546-6156 for more information or visit the Knights of Columbus website.
We have a number of men who are active in the Knights of Columbus.  Meetings are at the KoC Hall on Sweeney Circle in Forest.