UPDATED: 7/26/2022
Thank you again to all who attended our Second night of the CHOSEN Monday Movie Night Series!
UPDATED: 7/19/2022
First night of our CHOSEN Monday Movie Night Series was a Success! Thank you to all who attended!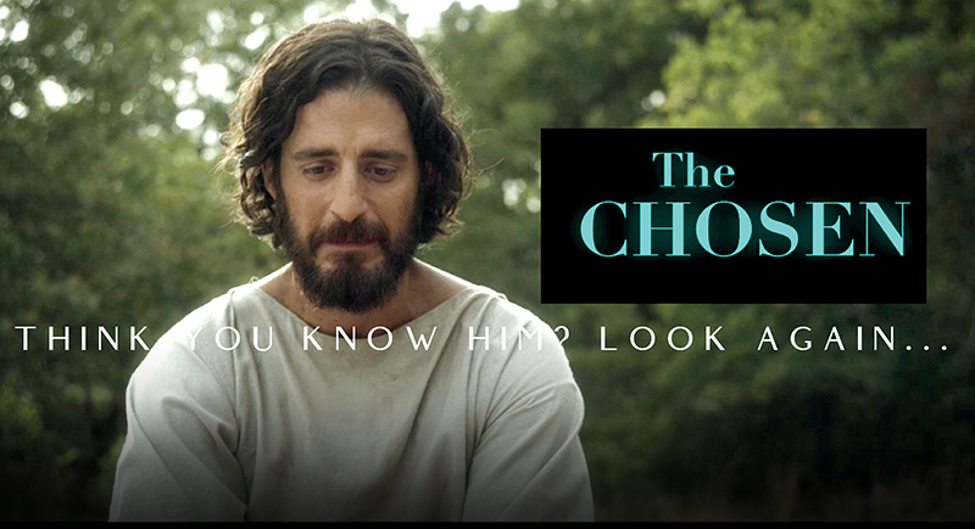 COME AND SEE WHAT THEY SAW.
Holy Name of Mary invites you this summer, to help your family grow together in faith or help a friend get to know Jesus. Come, see Jesus through the eyes of those who lived with and knew Him in "THE CHOSEN" – the award winning, first-ever multi-season (7 seasons) series about the life of Christ and His followers.
Over a period of 8 weeks, Holy Name of Mary will be showing the first 8 episodes from Season 1 of THE CHOSEN on Monday nights from 6-7 PM in McNally Hall, starting Monday, July 18, 2022 – through Monday, September 19, 2022.
No matter where you are at in your journey with Jesus Christ, this show, along with discussion & reflection guides after each episode, will challenge you to more fully know, love, and follow Him and give you a better understanding of Jesus as God and man.
Season 1 covers the beginnings of the ministry of Jesus and as you encounter the characters in The Chosen each week for the next eight weeks, we hope you will build a new curiosity about the life of Jesus and those that followed him when he walked the earth.
Reflection sheets and study guides will be available to facilitate discussion after each class (time-permitting) and you are free to take some home to continue your learning & spiritual discovery!
"THE CHOSEN" is suitable for all ages and has been viewed in groups and watch-parties by several Churches all across America and even integrated & aligned with Faith Formation and Religious Instruction programs.
This is a great opportunity to get to know fellow parishioners, and grow in fellowship & faith. Please consider inviting a friend. Beverages will be provided and you may bring a light snack to share.
No prior registration is required. Please check the HNM Website and bulletin or get in touch with the Parish office for more information, including the viewing schedule. 
THE CHOSEN Season 1 | 8-Week Series Viewing Schedule: 
July 18, 2022 – S01E01:  I Have Called You by Name (55 mins)
July 25, 2022 – S01E02:  Shabbat (40 mins)
August 1, 2022 – S01E03:  Jesus Loves the Little Children (30 mins)
August 8, 2022 – S01E04:  The Rock on Which it is Built (50 mins)
August 22, 2022 – S01E05:  The Wedding Gift (55 mins)
August 29, 2022 – S01E06:  Indescribable Compassion (52 mins)
September 12, 2022 – S01E07:  Invitations (38 mins)
September 19, 2022 – S01E08:  I Am He (60 mins)
BONUS STUDY GUIDE – The Chosen: Prequel – The Shepherd