September 30, 2022 |by HNMWebmaster | 0 Comments | faith-formation, fundraiser, middle-school, pancake-breakfast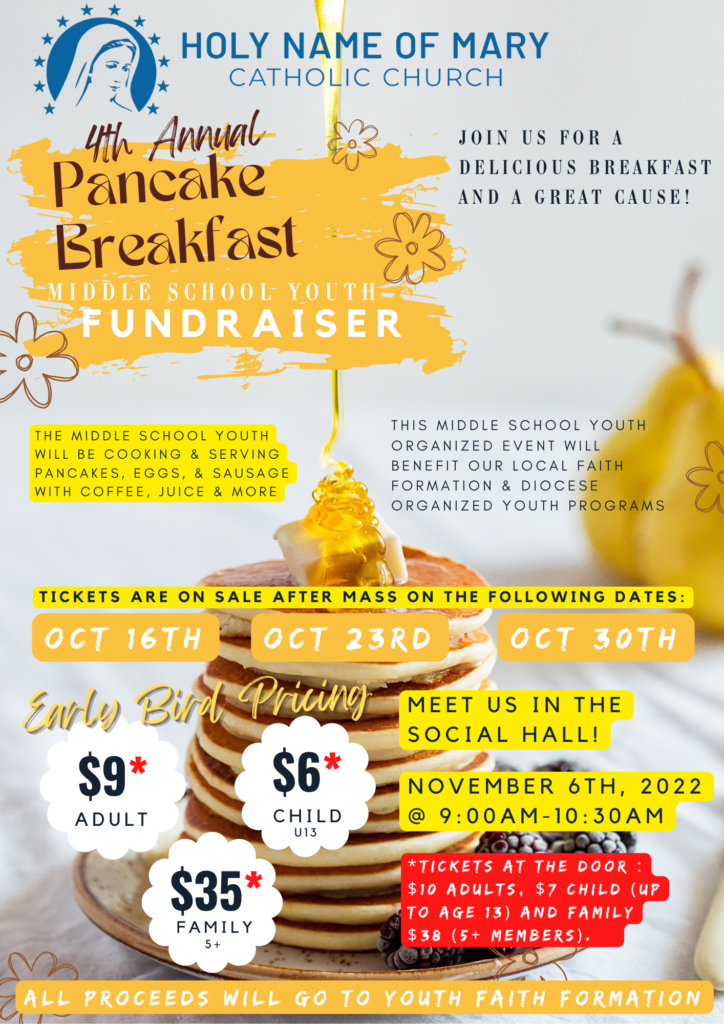 Join us on Sunday, November 6, 2022 for our 4th Annual Pancake Breakfast Fundraiser – organized by the Middle School youth of HNM Parish. This year, our youth along with their parents & Catechists, will be cooking & serving pancakes, eggs, sausages & more after the 8:00 AM Mass ONLY from 9:00 AM-10:30 AM. A light lunch will be served as usual after the 11:00 AM Mass. 
All proceeds will benefit youth activities here at HNM as well as any local, community or Diocese youth programs. 
Pre-ticket sales began last Sunday Oct 16 and will be available thru Sunday Oct 30, 2022. Tickets may be purchased on Sundays after both Masses, or on weekdays through the Church office. 
For more information, visit our website at holynameofmary.net or get in touch with our Faith Formation Coordinator at the office.  Please consider supporting our youth and this wonderful cause!
KEEP READING